What's this? Another running blog? Yep! With a twist!
I'm training for the Disneyland Half Marathon this year, and the majority of my training is taking place while working on a cruise ship. That means lots of treadmill miles to be logged between now and when we disembark the ship on August 11.
Can it be done? Techincally, yes. I've done it before when training for the WDW Princess Half Marathon this year. That treadmill and I got really close.
My goal for this half marathon is 20 pounds lighter and 20 minutes faster. It's my 20/20 goal. I'm going Stone Phillips on this piece.
The real question is, is it a sane thing to attempt while recovering from achilles tendinitis and bronchial irritation? Time will tell. I'm already weeks behind in my training which makes me uber-nervous-town.
My gear:
Nike Structure Triax 15
These shoes saved the Princess Half Marathon for me. I was training in some Asics which busted my achilles up something turrible... two weeks before the Princess I couldn't even run 5 miles. In desperation, I tried these babies on, and knew I could run in these all day. I love these shoes.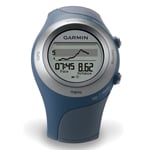 I grabbed this bad boy just before the Princess, too. It helped me keep track of my pace and my intervals (I'm baby-steps, going with Galloway's Run/Walk/Run method.) I like it a lot, but since I'm new to running and the lingo (the only splits I understand are 'banana') I know I'll grow into all the features.
I don't wear it while I'm training on the treadmill, of course, but it's pretty boss for holding Clif Shots, Honey Stingers and what-have-you.
There's other stuff too... iPhone, various earphone configurations, bondiband - and more to come....
Watch this space!